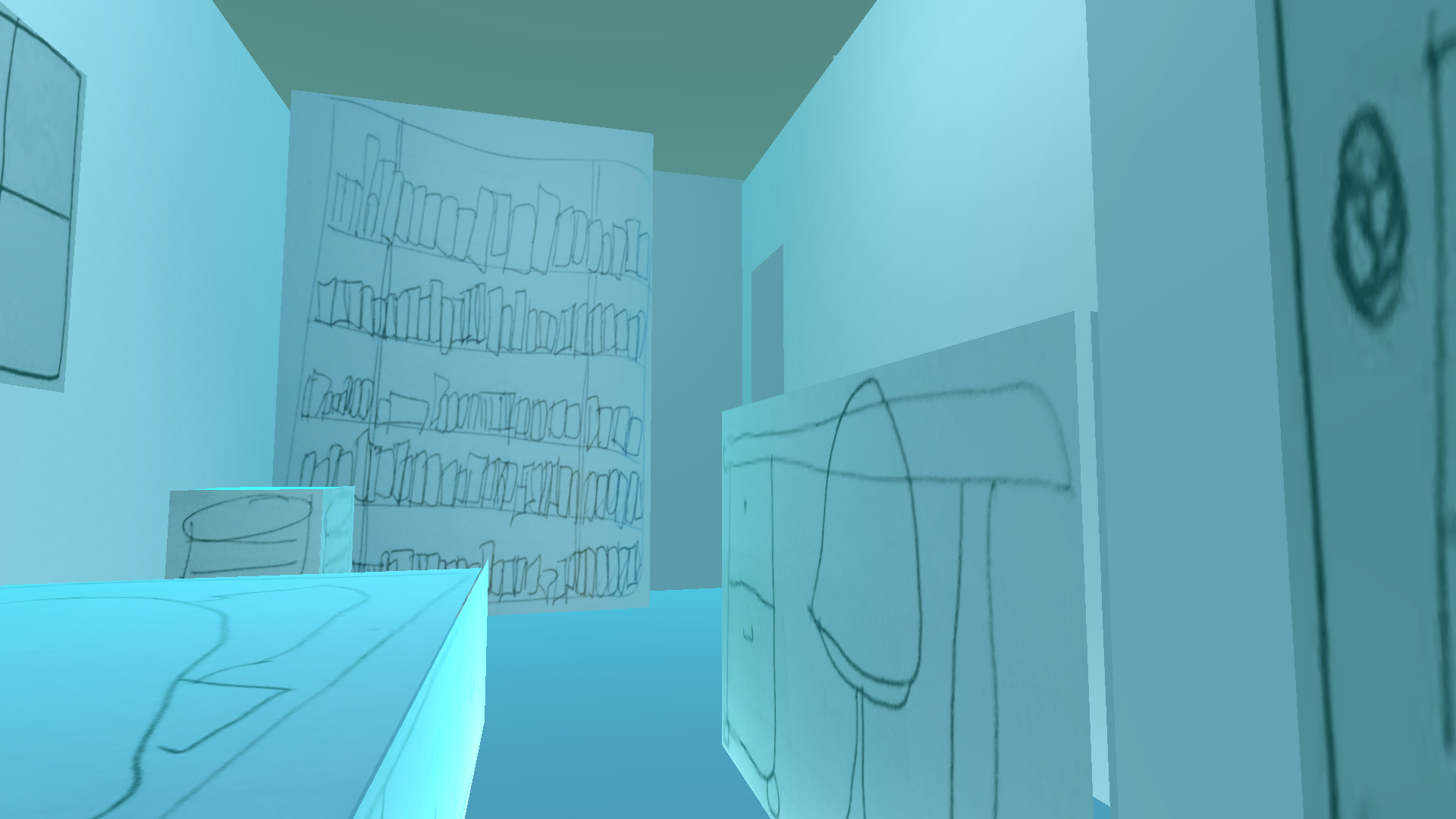 3d sketch of my childhood bedroom from 232henley
This is a post about recreating, framing and presenting home. Specifically, it is about a type of recreation of one's own personal home, or a relative's home, built as an exhibition, or in a virtual form such as a virtual environment. This isn't a formalized study, and will be quite limited (read: non-comprehensive).
A few months ago at the start of COVID-19 I built a model of the house I grew up in. You can play 232henley online here. My goal was to work out in my mind a connection to the house I spent the most time living in, for perhaps 15 years, and that I found myself remembering in little fragments here and there. I was starting to have trouble remembering the house, and some of the moments from my life. This is, I'm sure, a normal part of growing up and aging. My family has some photos of home, but mostly these are pretty limited, and mostly as 'background' of portraits. The feeling of home has felt a bit dislocated to me recently under coronavirus, and also more generally as I've lived in about a dozen homes for different amounts of time throughout my life, including through multiple cross-country moves and relocations. My parents live in a condo that they've inhabited for about ten years, not a place I grew up in. Even if I could go back to the twin house from childhood, it's inhabited by different people and certainly with different items and objects, that will hold very different meanings to me. I've driven past the old house. The large beech tree out front was long ago chopped down. The rickety staircase railing still manages to hold on.
In the spring I taught a course New Directions in Virtual Space. As part of this class we played a huge number of walking simulator type games. Walking sim, originally a pejorative term from various gamer forums, is now a more-or-less adopted and perhaps affectionate term for a certain kind of game that eschews skill, quests or puzzle-solving in favor of exploration of an environment. Various articles describe walking sims, their motivations and examples, so I won't belabor the point. But suffice it to say, it's a genre I feel drawn to. Games of this type can often be expansive exploratory environments. My goal was to make something much smaller, an experience of the 'twin' house or duplex that I grew up in.
My process was an attempt to capture down the house before it fades to memory further. I started by sketching items in my small unlined pocket moleskine notebook. I should say that while I do have a MFA from UCLA do not let that lull you into anticipating great skill in drawing! These are drawn with ordinary Bic blue pens in a roughly handled notebook, and done in a manner more akin to free drawing than skilled artisanship. And yet! There was care here. I did not have access to a scanner, so I used my phone's camera to photograph my drawings. I personally enjoy the introduced artifacts, at least partly parallelling the fuzz and uncertainties in my memory. Digital reconstruction of space can by its nature be harder to recreate notions of uncertainty, though this points to one example of showing exactly that.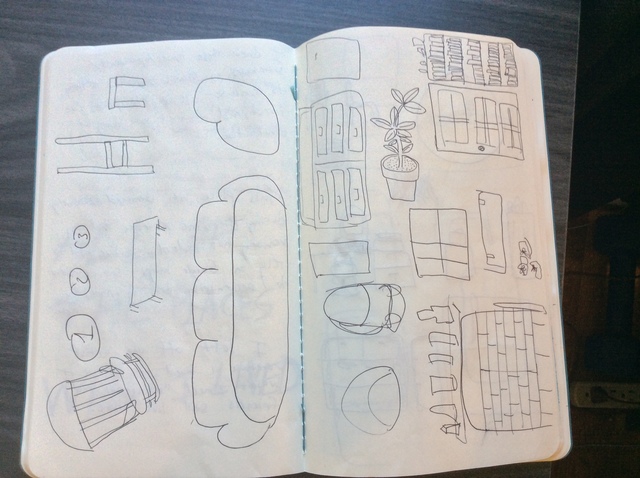 a page from my notebook
My basic building block was literally a block, or in this case the primitive cube shape in Unity, a ubiquitious 3d game engine tool used by game studios as well as individual art game-makers. I began by greyboxing, or building out the environment entirely of generic grey boxes: a box for the living room; a box for the couch; a box for a bookcase; a box for a painting; a box for a a chair; window; and et cetera. Then I simply layered on my drawings, from the top and 4 sides of each object onto their boxes.

Screenshot from 232henley
In an attempt to recreate the glitches, fuzzes in my memory, I introduced an actual glitching-type effect. SPOILER ALERT: After you walk through the whole house and into my parents' bedroom, when you leave there is a visual effect that starts to distort the field of view. This is amplified even further if you revisit my own childhood bedroom and walk out again.
Note that I'm not telling the stories or even any specific single story of growing up. This was originally built as a memory device for myself, and perhaps my sister or family. And they do enjoy playing it. They've even pointed out that I created the first version of the house, before they altered the kitchen when I was in high school or had left for college.
Naoto Hieda on twitter noted that in thinking about my piece 232Henley…
How can I recreate a space from my memory - while not affecting my memory? (because if I do the same as Lee did, my memory will be most likely overwritten by the 3d version)
This is an interesting point, and I've been considering this. But I also point out that at least so far it's served as a kind of digital memory palace that has helped me re-envision the space and some of my memories there.
I've also been thinking about other projects that seek to invigorate or re-present the home. Some of these projects that come to mind:
While a graduate student at Carnegie Mellon, artist Daniel Pillis built and lived in a version of his grandmother's apartment. There are wonderful photos on his website.
From September 2013 to August 2014, I lived and performed my life inside a re-installation of my grandmother's New Jersey home in Pittsburgh PA. I emptied her house as our family prepared to move her into a nursing home, and I brought several U-haul trucks filled with all her belongings to an empty house in the Lawrenceville neighborhood of Pittsburgh. I had few personal belongings other than the inherited contents of my grandmother. She had begun to develop signs of alzheimer's and was unfortunately forced to live in a small room in a nursing home. I gave semi-weekly tea parties where I gave performances based on home movies. Each was unique and spontaneous for the guests. Each evening I had the choice to sleep in my grandmothers bed or a bedroom filled with my childhood belongings. The project was an experiment in how media and memory are intertwined, how life is re-mediated by the methods we use to capture it, and how we are formed as a result of our environment, objects, belonging and family.
Now I had never actually seen this exhibit/installation, but had heard of it I believe from artist and educator Jon Rubin at Carnegie Mellon. I had seen photos online, and in research on this particular blog post came across this video with 3d environment built by Pillis. There's also a wonderful interview with him and many photos of the constructed environment here.
Rachel Uwa of the School of Machines, Making & Make-Believe mentioned online the work of a student several years ago engaged in a similar space of recreating one's childhood bedroom.
I am reminded of the staging of Sara Berman's Closet. Originlly presented at Mmuseumm, one of my favorite museums/art spaces/oddities in the world with incredible exhibitions and design, staged in an alley in Chinatown, Manhattan, New York City. It then traveled on to the Metropolitan Museum of Art, the National Museum of American Jewish History in Philadelphia, and the Skirball Center in Los Angeles.
Sara Berman's Closet was created by artist Maira Kalman and her son Alex Kalman of Maira's mother's closet. Alex is one of the organizers/curators of Mmuseumm.
The American Wing of the Metropolitan Museum of Art is typically devoted to lavish domestic interiors of yore, but a tiny exhibit currently on display celebrates an altogether different kind of private space. It is the modest, minimalist closet of Sara Berman, a Jewish émigré who settled in the Bronx in the early nineteen-fifties, and, late in life, after a divorce, moved to a studio apartment in Greenwich Village, where she purged her wardrobe of all colors except white. Berman died thirteen years ago, at the age of eighty-four. More recently, her daughter and grandson, Maira and and Alex Kalman, turned her belongings—frugal, elegant, orderly—into an unconventional exhibit. – in The New Yorker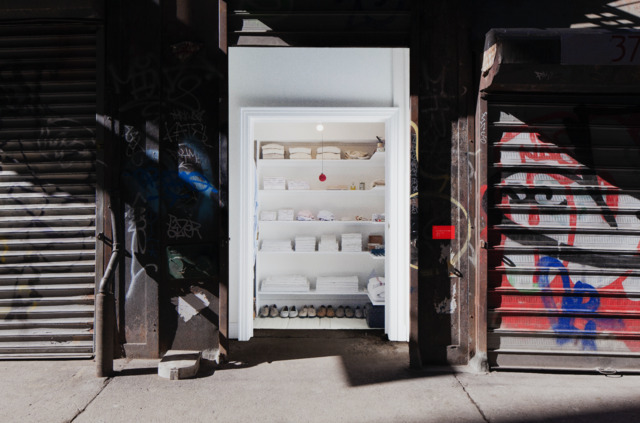 Sara Berman's Closet, installed at Mmuseum, image by Alex Kalman
Lastly in this extended tour I wish to recall the incredible exhibition Grandfather: A Pioneer Like Us by Harald Szeeman. Harald Szeeman, of Switzerland, was an unconventional curator, early supporter of Christo and Jean-Claude, founder of the Museum of Obsessions, and famously curator-visionary of the influential documenta 5 biennial. As the story goes, Szeeman's experimental approach to curatorial work was not beloved by traditional institutions, and he found himself without work or job prospects after documenta. At this point, he began on a labor of love, building an exhibition serving as what the Swiss Institute describes as an "all-consuming investigation of the life and work of his grandfather Étienne Szeemann, a famed hairstylist and inventor." The exhibit represented at the ICA LA and Swiss Institute is a strange hybrid: A re-imagining of the apartment of Harald Szeeman with the items, memorabilia of his grandfather's haircutting shop items and elements from his life.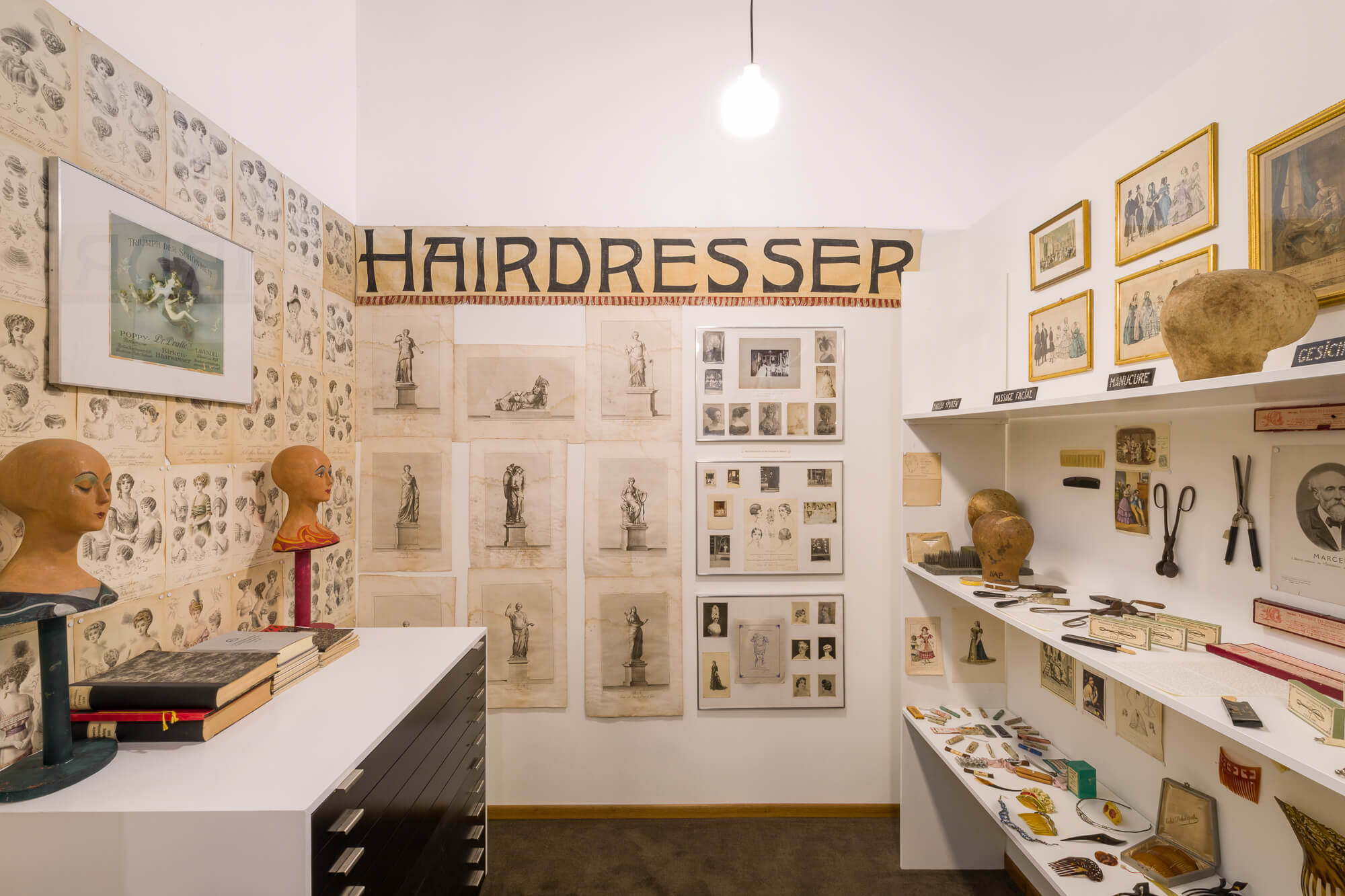 Exhibition image from Grandfather: A Pioneer Like Us, from ICA LA
This miniature blog post exhibition of re-imaginings of homes is not nearly comprehensive. I'd love to collect more examples of these lovingly created and imagined home spaces brought to life. I'm also thinking about various story quilts I remember, though wasn't able to remember a specific quilt that recreates a house. And of course doll houses would be another potential reference.
One other piece I'd like to leave with is my own other small piece Where I Lived, made of 2d crayon drawings of most of the homes I've lived in, a self-portrait I sewed around age 7, and short hand-written recollections and notes on home and place, made around the same time period as 232henley.
This is a blogpost! Please tweet at me more examples, or send an email. Cheers.